Welcome to Empirical Linguistics and Language Documentation (acronym: ELLDo), a MA programme at the Faculty of Modern Languages and Linguistics at Adam Mickiewicz University in Poznan, Poland.
Registration for the academic year 2018/2019 is now open!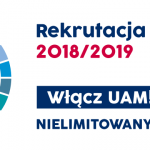 See more on the procedure under How to apply and the links given there.
For further questions write to elldo at amu.edu.pl or use the contact form.


Picture: from an art work by Tim Etchells – 80 words in four languages (do you know which?) expressing what you can do with language – created for "Lân fan taal", Leeuwarden, 2018.